You Need A Maintenance Plan
Some HVAC Maintenance You Can Do Yourself
Leave Some Maintenance To The Professionals
Annual Maintenance Of Cooling System
Searching For An Expert?

When you have an air conditioner unit, maintenance is a must. When maintenance isn't done on your system, it can lead to expensive and dangerous problems with the air conditioner unit itself as well as other parts of your home or building.
Over time, dirt will collect in the air conditioner's coils and surfaces, which will reduce its efficiency and cause it to break down quicker than usual. Not only that but when maintenance isn't done on a broken-down AC Unit, then it can emit harmful gases such as carbon monoxide into the air inside your home or office space. In this article, we will be discussing what maintenance services are needed for an AC unit so that you know how to keep yours running efficiently!
You Need A Maintenance Plan
Whether you are using your system for commercial or residential purposes, maintenance is essential. A maintenance plan helps to keep things running smoothly and efficiently by scheduling routine maintenance visits at least once a year (depending on the type of unit). Your plan may include maintenance tasks like inspecting vents, changing refrigerant oil, replacing individual components like an air filter, as well as more involved maintenance tasks like replacing an entire condenser coil.
Maintenance is a good plan to have on your system. It breaks up the work into smaller jobs and helps with how long it lives. You should do this every year when you turn 18 years old.
Some HVAC Maintenance You Can Do Yourself
There are maintenance tasks that you can do yourself with your HVAC unit. These maintenance tips will help keep the system running efficiently and ensure it is as cool or heated as desired.
Clean Outdoor Part
A good maintenance plan for an air conditioner includes cleaning out any leaves, debris, or branches on top of the air conditioning system to protect from damage caused by these items.

The maintenance plan also includes cleaning the unit's condenser coils to avoid any damages that may accumulate due to corrosion or dirt buildup.
Clear Fan Blades
In order for an air conditioner's fan blades and metal fins to work efficiently, it is important to clean them out as well by vacuuming with a long-handled brush attachment or by using compressed air.
Take Care Of Indoor Part
The maintenance plan also includes checking the evaporator and coil fins for any signs of dirt, dust, corrosion, buildup, or damage to ensure that they are cleaned out as well so that there is no rusting on the metal parts.
A good maintenance plan will help keep your AC running efficiently without you having to worry about it because a little prevention goes a long way in keeping cooling costs down!
Leave Some Maintenance To The Professionals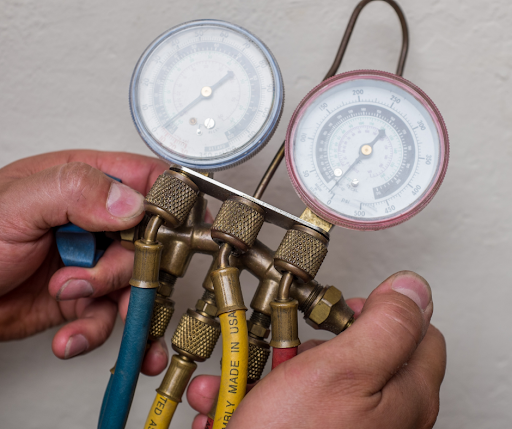 AC units and HVAC systems are sophisticated pieces of machinery that require regular maintenance to stay running efficiently. So what is the best way for homeowners or business owners to maintain their air conditioners?
Experts recommend HVAC maintenance on the air conditioner units at least once a year, but you may want your HVAC system serviced more often if it's in use all day long. Regular servicing from qualified professionals helps keep air conditioner units operating up-to-date without wasting energy as well as money!
Scheduled Maintenance Services On An Ac Unit
Air conditioners are a central part of your home and need to be maintained on a regular basis. Schedule maintenance for your HVAC system with professional HVAC technicians by contacting them today.
The climate where you live will have an effect on how often every quarter or annual maintenance needs to be done. Hire someone who can do HVAC repair work on both your indoor and outdoor HVAC systems.
You want the best person you can find coming into your home or business looking at everything now or down the line so don't hire anyone without doing some research first (or if you just don't know what they're talking about).
Electrical Problem
One of these signs is the electrical problem. This can be easily detected by a trained technician because there are specific HVAC symptoms like no cool air, tripping the circuit breaker, and an abrupt HVAC unit shutdown.
A trained technician will check the circuit breaker and replace it with a new one if needed. He'll remove the parts of the system that are not working or caused by an electrical fault to eliminate any chances of short circuits from happening again. The skilled worker can also detect the problem if it's inside the air conditioner unit, determine what needs to be repaired and then do so.
Compressor Issue
If there's a compressor issue, it might be something as simple as an accumulation of oil caused by the compressor going on and off. If this is the case, you may need to call for HVAC maintenance services on your air conditioner unit. This can help prevent any damage from happening due to frequent use.
Annual Maintenance Of Cooling System
Annual maintenance of the cooling system is one type of HVAC service that needs to be done for your unit. This will allow you to make sure everything is working as it should and all parts are functioning properly. You can typically rely on a professional HVAC company.
What to Expect from Annual AC maintenance?
When you take care of your annual air conditioner service, you may expect that it will work better for longer periods of time because any worn-out parts are replaced and the system is given little tune-ups. And more things depend on your proper annual air conditioner maintenance plan.
Annual Maintenance Cost
The annual cost of the service varies depending on where you live and what kind of air conditioning unit you have, so be sure to ask about pricing when considering annual services.
There are some benefits of regular maintenance:
Saving On Electricity Bills
Annual maintenance can keep your air conditioner up to date and this may give you better cooling. This annual service will also help reduce electricity consumption, which could make it a little cheaper for homeowners in some areas that have high power rates.
Can Save Few Bucks On Repair Bills
We can't stress enough how important annual air conditioner maintenance is. Your air conditioner can stop working. It can break down. A yearly checkup will make sure it is working well and that the parts are good.
We know you don't want to spend a fortune on HVAC repairs and that's why we are here for you. At On Point Service Company, our team has more than 20 years in this industry so they understand what needs to be done to maintain your system and protect yourself from those costly repair fees.
Save Your HVAC From Total Breakdown
If you want to save yourself from a total breakdown, annual air conditioner maintenance is the key. There are many things that can go wrong with an HVAC system but regular annual service prevents these issues and surprises by identifying problems before they happen. This will not just help protect your investment in your home; it will also keep you comfortable throughout the year.
Gives Your Air Conditioner Longer Life
Maintaining your air conditioner or furnace is critical if you want it to last for a long period of time. Inspecting and fixing any problems on these systems should be done at regular intervals, as they are interconnected and when one system fails, this will cause issues with other interconnected systems.
Searching For An Expert?
If you are in need of a reliable HVAC company for air conditioning and heating repairs or other maintenance services, On Point Service Company is the right choice. We have been providing excellent service to our customers. Whether it's a new installation, routine service call, emergency repair, or replacement parts that you're looking for we can help!
Contact us today at +1 254-709-3029 to learn more about how we can keep your HVAC system running smoothly all year long!